WELCOME TO ROOMS ON THE BEACH NEGRIL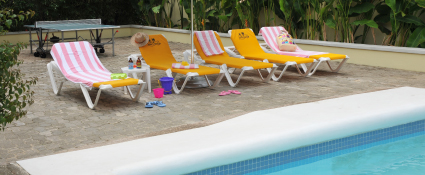 Introducing ROOMS on the beach, the best deal in Negril. This 57-room hotel faces the Caribbean right on Negril's seven-mile beach, famed for its powdery white sand and spectacular sunsets.
Continental breakfast is included and served from 7:30am to 9:30am. Full American breakfast, lunch and dinner are available at our on-site restaurant. A variety of restaurants from fast food to gourmet are located within walking distance of the hotel.
Rooms Negril also features a full service bar that's open from 10:00am to 11:00pm.
Rooms is a convenient base to such popular Negril haunts as Rick's Cafe and Alfred's, as well as within walking distance to local restaurants, boutiques, and 24-hour gift shops.
The hotel features ocean front and spacious family rooms, plus a swimming pool, on site restaurant and bar, fitness center and Internet cafe.
The first Rooms was opened in December 2004, with 97 units clustered around a bar and pool, and meeting space for those who want to combine business with pleasure. Nestled on the beautiful beach in Ocho Rios, on Jamaica's North Coast, the new value-priced affiliate has quickly won its own place in the sun.
Hotel Activities Off site activities such as golf, cruise, deep-sea fishing and a wide variety of excursions.
Local Attractions Rooms is located within walking distance of duty free shops, boutiques, gift shops, food stores and the craft market.
Rooms Resort welcomes singles, couples and families with children of all ages. We do not discriminate based upon race, nationality, gender, marital status or sexual orientation.