Sandals Resorts ** Beaches Resorts
Sandals Grande St. Lucian Beach Resort & Spa
All Inclusive Resorts ** All Inclusive Vacations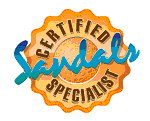 AllInclusive-Resorts.com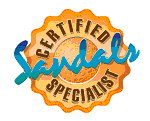 A Salty Dog Cruise and Travel Company
"THE PLACE" to book your vacations!!
CALL US AT 877-258-9364

CLICK HERE TO SEND US AN EMAIL
---
CLICK HERE AND SIGN UP TO RECEIVE

---
SANDALS GRANDE
ST. LUCIAN BEACH RESORT
---
Sandals Grande St. Lucian Beach Resort & Spa:

Location: St. Lucia

On an island so "simply beautiful" the French and British fought over it for over 150 years, lies a Five Diamond resort considered the Caribbean's grandest new addition. Set on it's own spectacular peninsula surrounded by the sea on both sides, the resort offers breathtaking vistas of the bay and the mountains on one side and the island of Martinique's distant shores on the other. Sandals Grande St. Lucian Spa and Beach Resort, where the views will steal your soul and the staff will steal your heart.

Bask in the countless pleasures of paradise on a "grande" scale. Where the world-class amenities of a Sandals Signature Spa Resort include the option of an elaborate European Spa*. Built in the style of a British palace where majestic stone archways lead through a three-story open-air lobby, Sandals Grande St. Lucian is framed by spectacular mountain views and edged by the island's most dramatically perfect beach - an endless stretch of sparkling white sand. Indulge in everything aquatic from scuba-diving to swimming in a choice of four impressive pools - including a creative lagoon pool that lets guests swim right up their rooms. There's hiking at neighboring national parks and golfing at Sandals Regency St. Lucia nearby. Best of all everything is your merely for the asking - without compromise.

Five specialty restaurants provide a culinary tour de force. Dine al fresco with the sea as your backdrop and the sky as your canopy. Or inside amidst a unique blend of casual elegance and white-gloved sophistication. Look to Toscanini's for traditional flavors made famous by classic Italian bistros. Enjoy Josephine's for French crepes prepared to perfection. International selections are served with spectacular bay views at Bayside. And Beachside, find authentic Latin/Caribbean fare at the Barefoot By The Sea grill. For a taste of Ye Olde Country, from imported beer to bangers & mash, an authentic English restaurant & pub await you. Plus with full exchange privileges at our two other resorts nearby, there are a total of 14 different dining choices.

There is a magnificent golf course with rolling hills and majestic fairways at nearby Sandals Regency St. Lucia . With 9 greens, the narrow fairways make the course a challenge for the best of golfers. Green fees and transfers are included. Caddies are not included but mandatory. Golf carts and clubs can be rented for an additional charge.
---
CLICK BELOW TO REQUEST A SANDALS RESORT PRICE QUOTE.

---
CLICK ON ONE OF THESE PICTURES
FOR MORE INFORMATION!!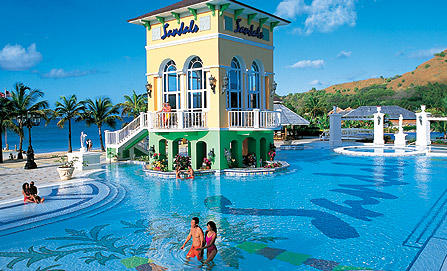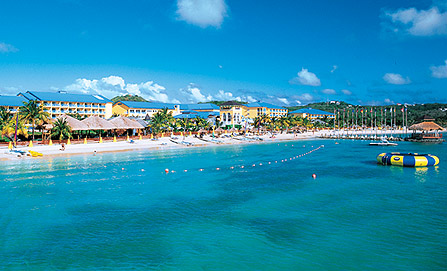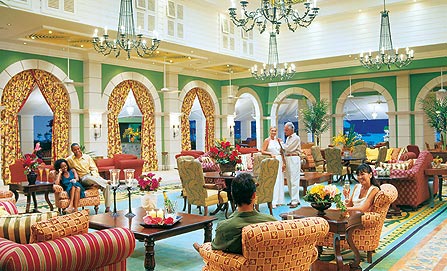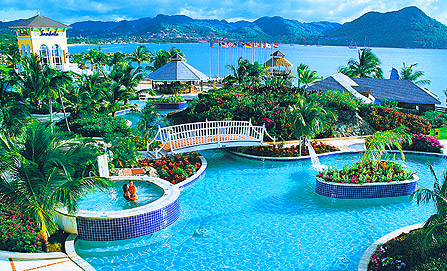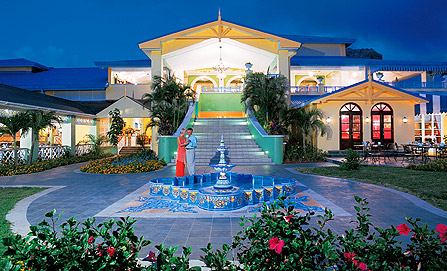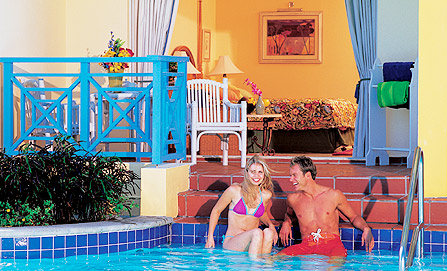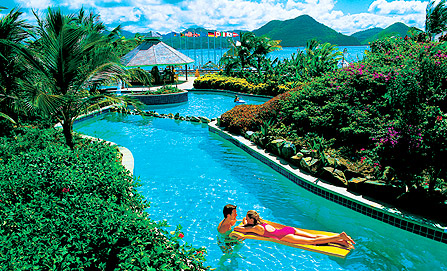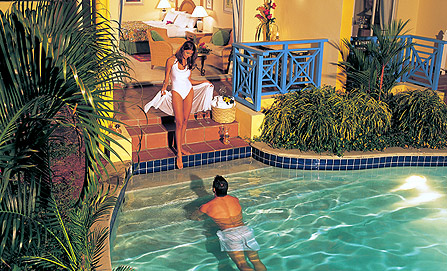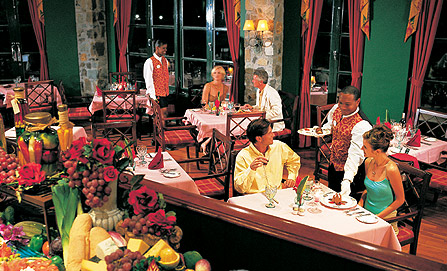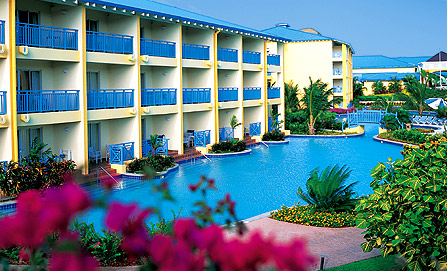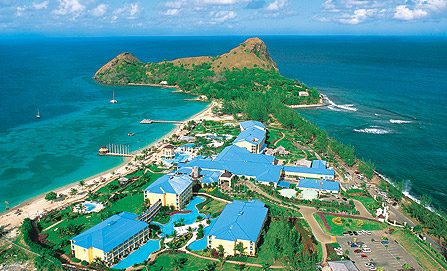 ---
CLICK BELOW TO REQUEST A SANDALS RESORT PRICE QUOTE.

---
LINKS TO ALL SANDALS RESORTS

---
Sandals Resorts is a collection of 12 of the most idyllic tropical beachfront resorts on earth located on the enchanted isles of Jamaica, Antigua, St. Lucia and The Bahamas, created exclusively for two people in love and united by one glorious name - Sandals. This is the kind of experience you often dream about, but rarely encounter. And as the world's best ULTRA all-inclusive resorts, there's one thing that sets Sandals apart from all others - everything. Sandals is perfection in paradise. Where the only season is summer yet every moment is kissed with the gentle caress of a cool ocean breeze. Where multi-choice gourmet delicacies are compliments of the Sandals chef and unlimited premium brand drinks are on the house. And where you'll be pampered morning, noon and night by a gracious Sandals staff who will redefine your idea of hospitality. Plus, you need never concern yourself about tipping, reaching for a check, or reaching for anything for that matter, because everything you could possibly want is right here. So come to Sandals and discover the world's most romantic dream for two.

Included in the Ultra All-Inclusive Sandals Resort Price: Airport Transfers, All Meals/Snacks, Accommodations, Drinks & Cocktails, Tips & Gratuities, Water Sports, Scuba Diving, Land Sports, Fitness Center, Golf (at some resorts), Nightly Entertainment, Hotel Taxes, and Even the Sandals Weddings are free !!!
---
Sandals and Beaches Resorts


---
We are affiliated with the one of the largest agencies in the world with independent agents located throughout the United States. We specialize as a major cruise and travel agency and our clients are worldwide. We have computer access to hundreds of group sailings and resorts at discounted rates that we pass on to our customers. Following are some of the Cruise Lines that we offer to our clients: Carnival Cruise Line, Princess Cruises, NCL Cruise Line, RCCL Cruise Line, Costa Cruises, Holland America, Cunard, Celebrity Cruises, Norwegian Cruises, Crystal, Royal Caribbean, Disney Cruise Line, Windstar, Regent. Let us help you plan your next vacation cruise, birthday cruise, wedding cruise, honeymoon cruise, anniversary cruise, graduation cruise, spring break cruise, holiday cruise, Valentine cruise, or just cruise cruise. Here are some of the cruise locations that we can help you plan cruises for: Alaska, Hawaii, Mexican Riviera, Baja, Panama Canal, Southern Caribbean, Eastern Caribbean, Western Caribbean, Trans - Atlantic , Europe, Mediterranean, Baltic Sea, Scandinavian, Holy Lands, Greek Islands, South American, Canada.
---
Following are some of the vacations we offer:
SUPERCLUBS, THE CARIBBEAN'S ONLY SUPER-INCLUSIVE RESORTS, HAS A RESORT THAT'S JUST RIGHT FOR YOU! BREEZES, ROOMS, AND HEDONISM. It's luxury. It's active. It' s a little wicked. When SuperClubs created the totally all-inclusive vacation concept, they changed the face of the travel industry overnight. In one skillful move, and focused the world's attention on a friendly, hospitable island where lush gree n mountains sweep into the crystal waters of the Caribbean. They set out to provide a vacation experience unlike anything anybody had ever seen before. From the world's best land and water sports, including golf and scuba, to candle lit dinners and moonlight strolls along powder-soft beaches.

ULTRA ALL INCLUSIVE RESORTS ARE SANDALS FOR COUPLES ONLY, and BEACHES RESORTS FOR EVERYONE. Sandals Resorts on Jamaica: Sandals White House, Sandals Montego Bay, Sandals Royal Caribbean, Sandals Negril Beach, Sandals Carlye Inn, Sandals Grande Riveria Beach Villa & Golf Resort in Ocho Rios. Sandals Resorts on Antigua: Sandals Antigua. Sandals Resorts on St. Lucia: Sandals Regency LA TOC Golf Resort & Spa, Sandals Halcyon, Sandals Grande St Lucian Beach; Sandals Resorts on Bahamas: Sandals Royal Bahamian Resort, Sandals Emeral Bay.

Beaches Resorts on Jamaica: Beaches Negril, Beaches Sandy Bay, Beaches Boscobel: Beaches Resorts on Turks and Caicos: Beaches Turks and Caicos Resort and Spa.
---
Visit our other web sites
---
Visit our other web site @ www.CruiseSaltyDog.com for more details and our cruise booking form.


California Seller of Travel CST# 2036509-50
© Copyright 2011 Salty Dog Cruise and Travel. Many of the photos and descriptions are courtesy of Sandals and Beaches.
| | | | |
| --- | --- | --- | --- |
| SANDALS RESORTS | BEACHES RESORTS | CELEBRITY CRUISES | COSTA CRUISES |
| DISNEY CRUISES | HOLLAND AMERICAN CRUISES | NORWEGIAN CRUISES | |
| PRINCESS CRUISES | REGENT CRUISES | CARNIVAL CRUISE LINE | ROYAL CARIBBEAN CRUISES |
| MSC CRUISELINE | SEABOURN | WINDSTAR CRUISES | |
| ACAPULCO | ALASKA | AMSTERDAM | ATHENS |
| AUSTRALIA | BAHAMAS | BALTIC | BARBADOS |
| BERMUDA | CANADA | CANAL | CARIBBEAN |
| COPENHAGEN | DENMARK | EUROPE | FLORIDA |
| GREECE | GREEK ISLES | HAWAII | ISTANBUL |
| LONDON | MEDITERRANEAN | MEXICAN RIVIERA | MEXICO |
| NEW YORK | NORWAY | PANAMA | PUERTO RICO |
| RUSSIA | SAN JUAN | SCANDINAVIA | SOUTH AMERICA |
| STOCKHOLM | TAHITI | SPECIAL | DISCOUNT |
| HONEYMOON | WEDDING | ANNIVERSARY | VACATION |
---